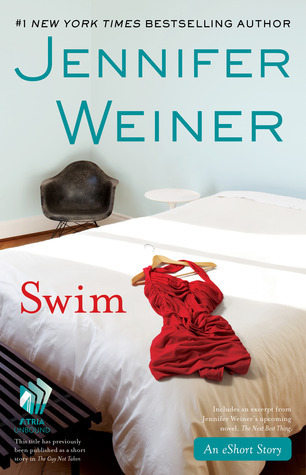 The short story that inspired Jennifer Weiner's forthcoming novel The Next Best Thing.
Ruth has left her job writing for a hit television show for reasons she'd rather not discuss and is supplementing her increasingly dwindling savings with freelance writing projects—namely, helping anxious high school students craft a perfect college essay and lonely souls craft captivating online dating profiles. When she's not working, she's swimming—lap after lap at the local indoor pool, in a desperate attempt to wash away the sting of professional failure and heartbreak that she can't seem to shake. It takes an unexpected client to show her that appearances can be deceiving, and that sometimes the bravest thing you can do is simply dive back in.
I had hopes for this one, I have enjoyed other books by Jennifer Weiner but this one for me was just a bomb. It was on my TBR on the E-reader for a while and when I finally got to it I really felt bored with it. I think maybe Jennifer Weiner should stick with full length books and stay away from short stories. I do seem to be in the minority with this book as others have enjoyed it. I didn't hate it, I just didn't enjoy it either. For me this was one of those books I finished reading to get it done and out of the way and I doubt I will remember much about it in the long term. They can't all be winners in the end. I know others have liked it, the characters weren't bad, so maybe someone else will enjoy it better than me. I was just not grabbed and bored, so I am glad I got it out of the way and it's on to another book.
My Gemstone Rating: