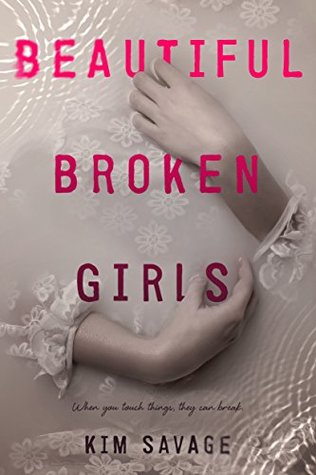 Remember the places you touched me.
The parts of Mira Cillo that Ben touched are etched on his soul.
Palm. Hair. Chest. Cheek. Lips. Throat. Heart.
It was the last one that broke her. After her death, Mira sends Ben on a quest for notes she left in the seven places where they touched—notes that explain why she and her sister, Francesca, drowned themselves in the quarry. How Ben interprets those notes has everything to do with the way he was touched by a bad coach years before. But the truth behind the girls' suicides is far more complicated, involving a dangerous infatuation, a deadly miracle, and a crushing lie.
There are some books that when you go into them you have fairly high expectations, for me this was one of those books. Unfortunately, it didn't really live up to what I hoped it would, I tried, I really did, but even with that said it doesn't make it a bad book. It could just be that this book was not my personal cup of tea in general.
Two young sisters are found wrapped together, clutching one another at the bottom of a quarry, the question then becomes how did they get there in that place together? The premise of this read is solid, it promises for intense reading and at times discomfort for the reader and on that it does not disappoint and it lives up to the title of the girls being broken. The cover of the book is also haunting and beautiful at the same time, yes you shouldn't judge a book by its cover, but sometimes a good cover really can be an added bonus.
The way the book unfolded and the letters we see through Ben's eyes is interesting, but for me it just was not interesting enough. The story goes back and forth in time and there are times that on its own made things a little harder to stay connected. There are books out there that can do that two different time lines game fairly well and one's that can't for me this one fell into the can't area. Then there is the over detailing on things. This is what for me caused my attention to wane from the story. While the writing is beautiful when I get to many details thrown at me, I feel as if I can't imagine the world for myself. I like to feel as if I can picture some of the story in the way that I want to picture it and that is where I get a disconnect. I also honestly found Ben to be more than a little bit creepy, but that could have been what the author was going for.
So at the end of the day this book was not the worst I have ever read by any means, but it just falls into the meh area for me. I am sure other readers will like it better so I wouldn't call it a complete pass, it will depend on what kind of writing you really enjoy.
I would like to thank the Publisher for allowing me to have a digital ARC from NetGalley of this book. This review is completely my own and honest opinion and has nothing to do with getting the ARC for free.
My Gemstone Rating: