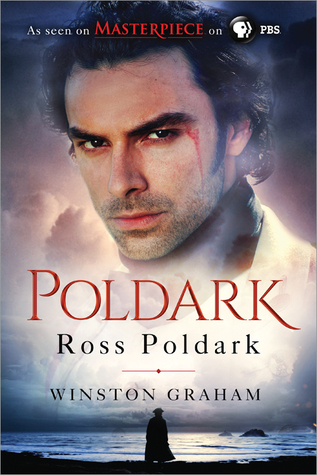 In the first novel in Winston Graham's hit series, a weary Ross Poldark returns to England from war, looking forward to a joyful homecoming with his beloved Elizabeth. But instead he discovers his father has died, his home is overrun by livestock and drunken servants, and Elizabeth—believing Ross to be dead—is now engaged to his cousin. Ross has no choice but to start his life anew.
Thus begins the Poldark series, a heartwarming, gripping saga set in the windswept landscape of Cornwall. With an unforgettable cast of characters that spans loves, lives, and generations, this extraordinary masterwork from Winston Graham is a story you will never forget.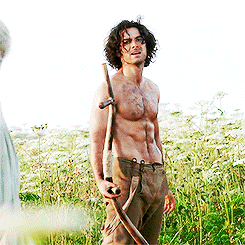 This was of course a re-read for me as I have loved Ross Poldark for quite sometime. This book of course was as good as I remembered and Ross the hotheaded but good hearted man I remembered him to be. The new cover art thanks to the new BBC movie is also something worth enjoying (lol) truly I think that Aidan Turner makes Ross to spring off the page.
There are many who don't like the books because of some of the content. All I can say is two things about that. The first being Ross and the others in the book are very flawed humans not the standard romantic heroes. So they do a lot of wrong things. Also when these books were written the style of romance was much more forceful. Simple as that. This is not to make excuses and there are things I don't appreciate that happen, even when they are done by my beloved Ross.
Anyways I digress. This book is well written and tells a story that could truly happen to any of us. Ross was a happy young man who went away to war with the thought of love and what he would come back to. However, war changed him, but worst of all the world he left was as if he stepped through the looking glass when he returned. His father gone his lady love going to marry his cousin. You can hardly blame the man for being angry for lashing out. Can you honestly say that any of us wouldn't act in a similar manner? He is a good man with a heart that hates seeing people treated unfairly. I don't want to go too far into saying things because I could truly go on for a long time about the whole series and giveaway the spoilers and details.
This is one that you should read even if you already watch the show. If you have not read the books you really are missing out in my humble opinion.
My Gemstone Rating: