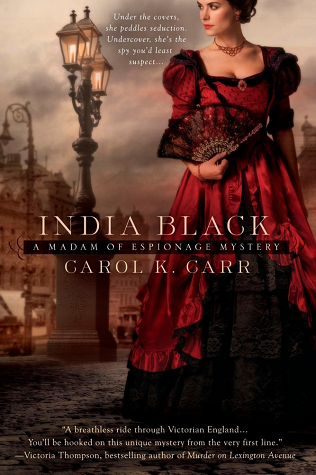 India Black: In the red-light district of London, India Black is in the business of selling passion her clientele will never forget. But when it comes to selling secrets, India's price cannot be paid by any man…
In the winter of 1876, the beautiful, young madam, India Black, is occupied with her usual tasks. Keeping her tarts in line, avoiding the police, and tolerating the clergyman bent on converting her girls. But when Sir Archibald Latham of the War Office dies from a heart attack while visiting her brothel. India is unexpectedly thrust into a deadly game between Russian and British agents. Both who are seeking the military secrets Latham carried.
Her majesty's secret service…
French, the handsome, British spy, discovers India disposing of Latham's body and blackmails her into recovering the missing documents. Their quest takes them from the Russian embassy to Claridge's Hotel, from London to the English coast. All the while dodging Russians intent to do them harm.
But it is their own tempestuous relationship they will have to weather. As India and French attempt to resist the mutual attraction between them. An attraction that can prove as deadly as the conspiracy entangling them.