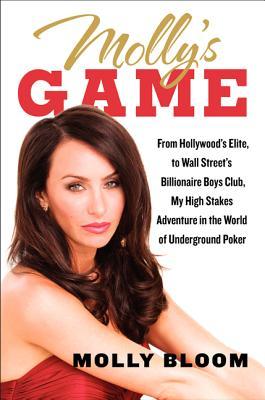 When Molly Bloom was a little girl growing up in a small Colorado town, she watched her brothers win medals, ace tests, and receive high praise from everyone they met. Molly wanted nothing more than to bask in that glow a little herself, so she pushed herself too—as a student, as an athlete. She was successful but felt like she was always coming from behind. She wanted to break free, to find a life without rules and limits, a life where she didn't have to measure up to anyone or anything—where she could become whatever she wanted.
Molly wanted more, and she got more than she could have ever bargained for.
In Molly's Game, Molly Bloom takes the reader through her adventures running an exclusive high-stakes private poker game. Her clients ranged from iconic stars like Leonardo DiCaprio and Ben Affleck to politicians and financial titans so powerful they moved markets and changed the course of history. With rich detail, Molly describes a world that until now has been shrouded in glamour, privilege, and secrecy, one where she fearlessly took on the Russian and Italian mobs—until she met the one adversary she could not outsmart, even though she had justice on her side: the United States government.
Molly's Game is an incredible coming-of-age story about a young girl who rejected convention in pursuit of her version of the American dream. It's the story of how she gained—and then lost—her place at the table, and of everything she learned about poker, love, and life in the process.
My Thoughts:
Oh dear. This is one of those rare instances where the movie was actually better then the book. It is pretty weird how similar to Piper what's her name (Orange is the new black, Piper) and Molly's stories are. Only I enjoyed Piper's a shade more then I enjoyed Molly's. I know it seems like lately I have been super picky about books, and maybe I am, but this one is just. Nope.
So I am not really sure what else to say about this one sadly. I know I should probably go on some more, but honestly I don't want to give this book anymore brain space then I already have. In short… just watch the movie on this one, it isn't fantastic but it is WAY better than the book.