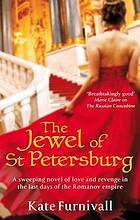 Jewel of St. Petersburg: Russia, 1910. Valentina Ivanova is the darling of St. Petersburg's elite aristocracy-until her romance with a Danish engineer creates a terrible scandal and her parents push her into a loveless engagement with a Russian count.
Meanwhile, Russia itself is bound for rebellion. With the Tsar and the Duma at each other's throats, and the Bolsheviks drawing their battle lines, the elegance and opulence of Tsarist rule are in their last days. And Valentina will be forced to make a choice that will change not only her own life, but the lives of those around her forever…
My Thoughts:
Time to dive into a read with a familiar character for me as I have read both The Russian Concubine and The girl from Junchow. A lot of other readers and reviewers for some reason didn't seem to like this book much. I personally loved it. I have always been fascinated with the world and how it changed during the Bolshevik revolution and how the White Russians responded. Not only that but I was ready to learn more about Valentina and why she was a bit horrid before. Learning what she lived through, how she survived and all she saw, truly makes you see how she ended up the way she did.
Valentina was a girl trapped in a world that was changing faster than anyone could really comprehend. She did her best to help people, despite being highborn she becomes a nurse at a hospital that helps mainly the poor. Valentina is laughed at and turned away at first, but she eventually endears herself to the Matron. She falls in love and even through the trauma she suffers as a result of things changing around her, she still tries to help and do the right thing. I don't want to go into to many details, of course if you read the Russian Concubine you know in the end she loses everything except for her little girl Lydia. All in all this is a great prequel and is written beautifully, I was very sad when I finished the book.