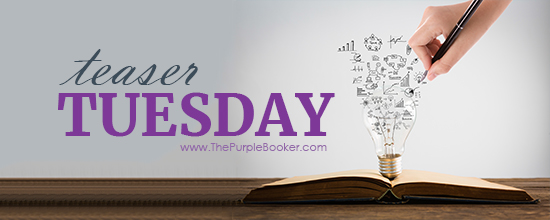 Welcome to Teaser Tuesday, the weekly Meme that wants you to add books to your TBR! You can also just share what you are currently reading. We make it very easy to play along, it is as easy as 1, 2, 3!
1: Grab your current read
2: Open to a random page
3: Share two (2) "teaser" sentences from somewhere on that page
• BE CAREFUL NOT TO INCLUDE SPOILERS! (make sure that what you share doesn't give too much away! You don't want to ruin the book for others!)
• Share the title & author, too, so that other TT participants can add the book to their TBR Lists if they like your teasers! Everyone loves Teaser Tuesday.
Happy Teaser Tuesday everyone! I hope you had a good holiday weekend. Memorial day is always fairly quiet for me, pay respects to our soldiers etc. I did get my crojo (crochet mojo) back after a couple of days off from it, so that's good. Played around with the sewing machine a lot and whipped up a bunch of things. I admit I didn't read much (bad of me I know), but I am resolved to finish The Widow of Windsor this week. In the meantime…you get another teaser from it, LOL.
"Suit yourself," said the marchioness, loading a fingernail and inhaling nosily. I pulled my handkerchief from my sleeve and bent my face to it, feigning a speck of dust in my eye. The top of my hat absorbed the shower that inevitably followed. The countess's maid mewed in disgust and dabbed at her skirt. The countess cringed. The marchioness returned the snuffbox to me with what I swear was a wink. ~ India Black and the Widow of Windsor (Madam of Espionage #2) by Carol K. Carr