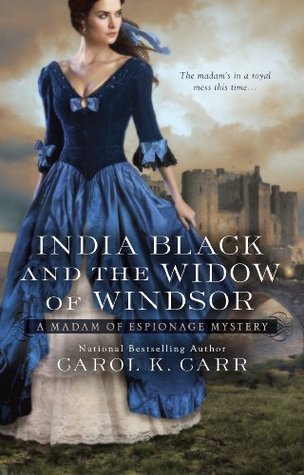 India Black is back! Her Majesty's favorite spy is off to Scotland! In this new adventure to ensure the Queen doesn't end up getting killed.
When Queen Victoria attends a séance, the spirit of her departed husband, Prince Albert, insists she spend Christmas at their Scottish home in Balmoral. Prime Minister Disraeli suspects the Scottish nationalists plan to assassinate the Queen. So he sends the ever resourceful India and the handsome British spy, French, to the Scottish highlands.
French will take the high road, looking for a traitor among the guests-and India will take the low road. She is disguised as a servant in case an assassin is hiding among the household staff. India is certain that someone at Balmoral is determined to make this Her Majesty's last Christmas…
My Thoughts:
Time for another adventure with India Black and this time not only is she working for Queen and country, but she is staying in the same residence as her Majesty. As I found in the first book India herself is very entertaining, she gets up to a great deal and her commentary is always spot on.
Poor India having to run away from Bertie so much! However, the plot of this one was not nearly as good as the first one so I found at points I almost wanted to give up on it. I am glad I didn't, because I do enjoy the world that has been created here. I just wish the bones of this one had been a little better. Most of he twists were pretty obvious and some points were just pretty pointless. Though a great deal was made up for with India's "employer" this time around, now she was a hoot! Even blew snuff all over Queen Victoria! She was of course not amused at all.
So overall, this one was a big of a sluggish read, but I feel the series is worthwhile and I will be trying the next one out as well. India really is a fantastic character and she alone is worth allowing a little bit of a slower read that wasn't as exciting to be overlooked. She is a girl after my own heart too enjoying a well turned calve.