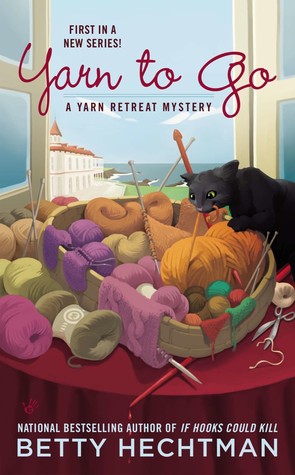 Dessert chef Casey Feldstein doesn't know a knitting needle from a crochet hook. But after her aunt dies unexpectedly, leaving Casey to run her yarn retreat business, the sweets baker finds herself rising to the occasion—and trying to unravel a murder mystery…
When Casey finds out that her late aunt's business, Yarn2Go, has one more yarn retreat scheduled, she decides to go ahead and host the event, despite her complete lack of experience as a knitter. At least the retreat is on the beautiful Monterey Peninsula.
But the idyllic setting is soured when a retreat regular is found murdered in her hotel room. Feeling a sense of responsibility, Casey begins to weave the clues together and detects a pattern which may shed light on her aunt's suspicious death. Despite the danger, the last thing Casey plans to do is retreat. She'll catch this killer…or dye trying.
Includes a knitting pattern and a recipe!
My Thoughts:
I will be the first one to admit that cozy mystery is not my go to genre, but I have found some that I really like thanks to some of my book friends who are very much cozy readers. I love a good mystery just tend to go towards the historical ones first, but hey this one also has yarn and I do love yarn. This was a good book, but it kinda fell into the it's good but not great category for me. I was able to tell who dun it pretty early on and I had a little trouble connecting with most of the characters.
That aside, I did like the book. Casey did grow on me and I love that she found joy with yarn. Okay she was knitting and I crochet, lol but there was crochet too. It is a fun book and overall if you love Cozy mysteries I think you will end up liking it a bit more then me. I am willing to give the series a go and try the second one though. Maybe it just is a bit of a slow starter. I liked the baking worked into the book as well. So final verdict it is worth giving this one a try, especially if you like cozy mysteries or yarn.