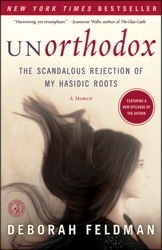 Unorthodox: The instant New York Times bestselling memoir of a young Jewish woman's escape from a religious sect, in the tradition of Ayaan Hirsi Ali's Infidel and Carolyn Jessop's Escape, featuring a new epilogue by the author.
As a member of the strictly religious Satmar sect of Hasidic Judaism, Deborah Feldman grew up under a code of relentlessly enforced customs governing everything from what she could wear and to whom she could speak to what she was allowed to read. It was stolen moments spent with the empowered literary characters of Jane Austen and Louisa May Alcott that helped her to imagine an alternative way of life. Trapped as a teenager in a sexually and emotionally dysfunctional marriage to a man she barely knew, the tension between Deborah's desires and her responsibilities as a good Satmar girl grew more explosive until she gave birth at nineteen and realized that, for the sake of herself and her son, she had to escape.
My Thoughts:
From the moment I first started reading Unorthodox I knew it was going to be something that opened my eyes, and it was. This book, this story it is amazing. The strength it had to take to leave everything you've ever known behind, in this way. To defy the religion you had always known, it is amazing. It was almost impossible to put this book down. I was filled with rage at many points in reading this, not at the author of course but at the way she and other women were treated. If you look at how she has been treated even now, some of the false reviews left on her book, it is astonishing.
The feeling I come away with overall from this book is one of pride. The strength shown, the new life found and the utter refusal to back down  We could all use a little bit more of that.