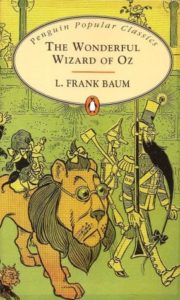 Follow the yellow brick road!
Dorothy thinks she's lost forever when a tornado whirls her and her dog, Toto, into a magical world. To get home, she must find the wonderful wizard in the Emerald City of Oz. On the way she meets the Scarecrow, the Tin Woodman and the Cowardly Lion. But the Wicked Witch of the West has her own plans for the new arrival – will Dorothy ever see Kansas again?
Every now and then I like to travel back to books that I loved when I was younger. When a new show that is based on an old favorite book I really want to read the book again, thanks to Emerald City I went back and read The Wonderful Wizard of Oz. The book is truly enjoyable and one of the reasons that I became such a fan of books along with some other classics of course.
The book is so much different then the classic Judy Garland film, it is darker and of course the slippers aren't ruby at all but silver. There really isn't much I can say about this book other then I enjoyed every page just like I did when I was a kid. It is a classic for a reason and as one of the earliest fantasy works you can really see how it plant the seeds in the genre. It might seem "trope" like to readers who are coming to it late in life or the younger generation but when it was written it really was something different. To me it stands the test of time even if it doesn't to others. This will be one that I keep coming back to every now and then. Not much left to say because really I think almost everyone has read this one or at least knows a fair amount about it.
My Gemstone Rating: