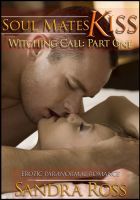 Iliana Ravensworth was a reluctant but powerful witch while Marcus Swan was an orphan who knew there was something different about him but didn't know about his warlock bloodline.
And Iliana was about to find him so she could bring him to the Council of magical beings where he could be educated about his powers. Although she did not regularly mingle with other covens or witches except her mother, she has no choice but to follow this directive.
So she went to New Orleans to find this Marcus and hopefully be back to New York on her birthday in Samhain. But the weather did not permit her to leave after finding Marcus and his awesome castle. He was not what she expected–handsome, young, filthy rich and obviously drawn to her, too. And on the eve of Samhain, they shared a kiss.
And that first explosive kiss revealed everything.
Can't stand the suspense? Download and find out what happens next!
READER ADVISORY: HOW PLEASUREFUL DO YOU LIKE YOUR STORIES? This story contains content that some readers may find objectionable. This includes sex, extended orgasms, and erotic themes. All of the characters are 18 years of age or older.
I was closing out 2016 I was trying to read shorter stories that had been on my TBR pile for a while. This was another short freebie and I thought it would be fun. I really find myself enjoying paranormal romance more lately. So this book looked like it would be a hit for me on every side. Sadly, I was left wanting. The biggest problem with this book is that it is way too short for any real development, and it really does not deal with the paranormal much it is more of a standard Erotica.
The premise of the book is great, two characters bound together and trying to find one another, one a witch the other a warlock. All the ingredients were once again in place, but they just did not seem to come together to make the yummy dish I was hoping for. Sadly, that seemed to be how I was destined to finish my 2016 reading. While I understand this book was meant to be short, even shorter books can make things come together. I wish the writers of these shorter books would give it a little more of a try, make the books a little longer and give the characters a little more time to develop. Overall, it just seems to be a wham bam thank you ma'am situation. They meet they are in bed and that is pretty much the end of it. This book gets two instead of 1 because I did feel there was a huge amount of potential there and I really wanted it all to come together well. Sadly, it didn't, but it was a freebie so I can't complain too much.
My Gemstone Rating: