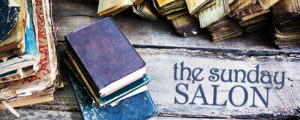 Another Sunday and another week is at a full close, while we get ready to start fresh. A clean slate with a new week ahead that looks like it could be a better one. This week for me has been a tough one, the new year gave me a blow that I have not yet recovered from. I want to say sorry to my Teaser Tuesday participants for airing out my grief in that post, but it felt like the thing I needed to do at the time. I will of course give another apology directly in the next Tuesday Post so I can ensure readers will see it. While I am still dealing with my grief, this week has had some interesting bright spots as well.
It would seem my Pash pash is still overlooking me and sending me things to keep my mind at least a little bit occupied. I have had more orders this week alone in my shop than I had for the entire first 4 months of last year alone. I have been slowly working on building the shop up, taking my time and making sure I do it right, so I give people quality handmade goods and useful tool items. I like to think that hard work is paying off given the amount of orders I have had this week alone. Granted, this week also served me up with my first negative feedback. This was from a client that never even gave me the chance to make things better and her first mention of anything wrong with the item was over a week after she had me ship it to a different address than hers. I don't like to call people out on things, I don't like to point fingers, but in this situation, it all seemed a little bit odd to me. I still would have been more than willing to do something to make things better ask any of my friends and family, they will tell me I always do my level best to provide ace customer service even on the, smallest orders. This week, however, also saw me get a firm collaboration order out of the blue and I am very excited about what it means for me and the shop. It really does mean I could see more orders coming in. I wish I could go into more detail about it, but I can't at least not yet.
Now straying away from that and getting back the relevant things for this blog. The books. I am almost fully caught up on writing my reviews for 2016 which makes me happy. There are some books I decided were so terrible they weren't even worth writing a review for the blog. One of those man I do not want to dedicate another single second to that book then I need to. One of them was so full of typo's it was nearly a different language. I will never understand why someone can't take the time to proof read what they have written, especially for a published book and double especially if it is 5,000 words. I mean, come on just because you are an Indie writer does not mean you shouldn't put some work into it. I know you can't catch all the mistakes and I know I myself make plenty of grammar and format mistakes in blog posts and other places as well. But come on. Really?
On the upside, I am on track so far for my challenge this year ha ha ha, I know one week in  is pretty hard NOT to be on track. I am taking it as a win, however, because of everything that has happened. I am very happy to have been given the chance to read A drop of ink as an Arc and so far I am enjoying every word of it! I had planned on reading it myself, you know with my eyeballs from my kindle. Alas, thanks to all the sock orders my fingers need to be working on crochet, even taking the time to type up the Sunday Salon reminds me how much more work I have to do on socks. So when in doubt, hit that text to speech button and let Kindle do the reading for you. What happened to Brian the British man's voice though? I liked him. I have the British girl reading to me for now, lol. Yes, I know I am an Anglophile.
I have also been pondering some more on the Challenge I want to host next year (and maybe this year as a test) I am pondering doing different royal families as a start. It needs to be fleshed out a lot more, but there are a lot of great books set in specific royal times and moving around those courts. Various ones in Italy, Spain, France and England of course. Clearly the idea is still very lose and need some polishing, but I am open to suggestions about it.
For now I am going to sign off. I hope others had a less mixed bag kind of  week, then I did and I hope this coming week is going to be a good one as well.