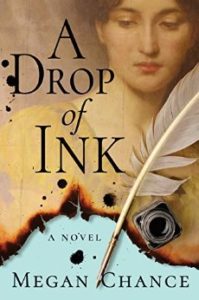 Penniless and disgraced, Adelaide Wentworth is feeling rather desperate. With nothing left to lose, she and her sister, Louisa, flee to Lake Geneva with Adelaide's lover, the infamous poet Julian Estes. There, Louisa hopes to persuade Bayard Sonnier—celebrated writer and her former lover—to advance Julian's career. He is their last hope for salvation.
At the Villa Diodati—the place that inspired the writing of Frankenstein sixty years earlier—Louisa plots to rekindle her affair with Bayard, while Adelaide hopes to restore her fading love for Julian by being the muse he needs.
But soon, secrets are revealed, passions ignited, and hidden talents discovered. Adelaide begins to imagine a different life. Confused, she turns to Giovanni Calina—Bayard's assistant and a man with his own secrets and deep resentments—and the two form a dangerous alliance. No one leaves unscathed in this richly imagined, emotionally nuanced tale of passion, ambition, inspiration, and redemption.
I want to thank Net Galley and the publisher for allowing me to get an ARC of this book. I will admit that it was the cover which drew me in first, but the description kept me interested and the book and the book itself that made me keep reading.
This is one of the most unique books I have had a chance to read in a while and the tapestry of characters is rich and interesting. If you are a reader who is also very interested in writing and the entire process it has you are really going to enjoy a drop of ink because it is all about the process of writing and the characters who are writers while of course also giving you a nice dash of history and romance too. If you are looking for a happily ever after kind of romance this is not the book for you, I am just going to say that now without giving away any major spoilers.
The year is 1876 the place is Lake Geneva in Switzerland, at a Villa where famous writers Lord Byron and Mary & Percy Shelly stayed some 60 years ago. It was this Villa where Frankenstein and his Monster were born. There is a curious collection of characters gathered here this time as well, Bayard the famous writer, Giovanni his assistant who is trying to claw his way up the social ladder, Estes, who is, well, in my opinion a useless poet who likes his drug flask way t0o much and the Sisters Adelaide and the rather insane Louisa.
You get plotting and scheming and controversy and sometimes of course scandal. Overall, I really enjoyed the book it was fun and entertaining and the historical backdrop was nice. Other times I could not help but roll my eyes a little and sigh, some of the drama that Louisa caused was just over the top and Adelaide well she was not much less crazy at times then her sister. The fact that so many people didn't really seem to notice all the drama was also a bit curious and yet those people had no problem showing up and surrounding the famous writer. The trope of the grumpy ole writer who hated being surrounded like that was probably my least favorite of the bunch. However, when it comes to complaints that is really a small one as far as things go.
This book really was one that I enjoyed a great deal. It had supernatural theories and fun playing along as well as humor, romance and history. I have always adored the idea of writing a book in the old way with a dip or fountain pen on parchment paper. So this one was bound to be a fun, enjoyment for me. The ending really was not overly satisfying for me, but it was realistic and I understand that sometimes realism has to win over the happily ever after.
My Gemstone Rating: