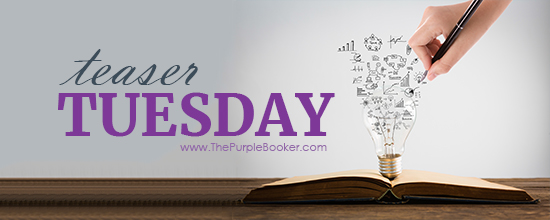 Welcome to Teaser Tuesday, the weekly Meme that wants you to add books to your TBR! You can also just share what you are currently reading. We make it very easy to play along, it is as easy as 1, 2, 3!
1: Grab your current read
2: Open to a random page
3: Share two (2) "teaser" sentences from somewhere on that page
• BE CAREFUL NOT TO INCLUDE SPOILERS! (make sure that what you share doesn't give too much away! You don't want to ruin the book for others!)
• Share the title & author, too, so that other TT participants can add the book to their TBR Lists if they like your teasers! Everyone loves Teaser Tuesday.
Happy Tuesday everyone. I hope that your week is going well so far. I was under the weather last week and so far this week I am playing catch up. Sometimes being a one woman show is tiring. I always have to remind people that owning your own buisnes is hard. You don't get to show up for a shift then head home. The buck stops with you. At least I have had a little time to read for relaxing. Always a plus, even if it is kind of easy mindless reading.
"Cats like sleeping and resting on intersections. There are many stories about magical animals but really, apart from the dragon, the cat is the only creature which can absorb the force. No one knows why a cat absorbs it and what it does with it…"
― Andrzej Sapkowski, Blood of Elves (Witcher )