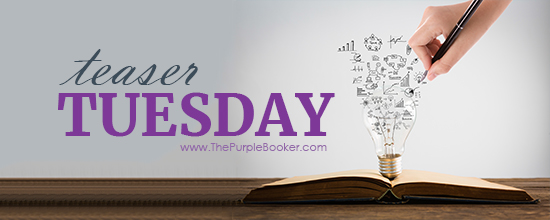 Welcome to Teaser Tuesday, the weekly Meme that wants you to add books to your TBR! You can also just share what you are currently reading. We make it very easy to play along, it is as easy as 1, 2, 3!
1: Grab your current read
2: Open to a random page
3: Share two (2) "teaser" sentences from somewhere on that page
• BE CAREFUL NOT TO INCLUDE SPOILERS! (make sure that what you share doesn't give too much away! You don't want to ruin the book for others!)
• Share the title & author, too, so that other TT participants can add the book to their TBR Lists if they like your teasers! Everyone loves Teaser Tuesday.
Tuesday is here again and boy can I say I am glad for that. Monday was not a good one for me this week, I have to say it was a "typical" Monday when someone says ugh Monday. I would also say is Ugh an emotion? Because that is what I felt all day, but Tuesday means a new day a new chance to have a better day and I am looking forward to that. I am going to start off with one of my favorite things and that is sharing my Teaser's and reading yours! I am on book 3 of my re-read of The Witcher series and decided to share two quotes this week. Enjoy!
"To be neutral does not mean to be indifferent or insensitive. You don't have to kill your feelings. It's enough to kill hatred within yourself."
"Mistakes,' he said with effort, 'are also important to me. I don't cross them out of my life, or memory. And I never blame others for them.― Andrzej Sapkowski, Blood of Elves (Witcher #3)