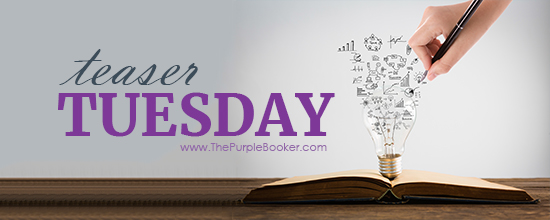 Welcome to Teaser Tuesday, the weekly Meme that wants you to add books to your TBR! You can also just share what you are currently reading. We make it very easy to play along, it is as easy as 1, 2, 3!
1: Grab your current read
2: Open to a random page
3: Share two (2) "teaser" sentences from somewhere on that page
• BE CAREFUL NOT TO INCLUDE SPOILERS! (make sure that what you share doesn't give too much away! You don't want to ruin the book for others!)
• Share the title & author, too, so that other TT participants can add the book to their TBR Lists if they like your teasers! Everyone loves Teaser Tuesday.
Happy Teaser Tuesday everyone! As always I hope I find you well this Tuesday and enjoying your reads! Posting this super fast this morning since I forgot to get it ready last night. Sorry! Though its still nice and early on my coast here, lol. We had our first over 100 degrees days last week and wee gonna be the same this week. LOL welcome to hot land. Hope the weather isn't to warm where you are.
Anyways, onto this week's Teaser:
"The path to success is a thorny one, and the way is steep. There are many pitfalls. It is a fool who does not take advantage of a helping hand when it is offered." ~ The Lady in the Tower by Jean Plaidy