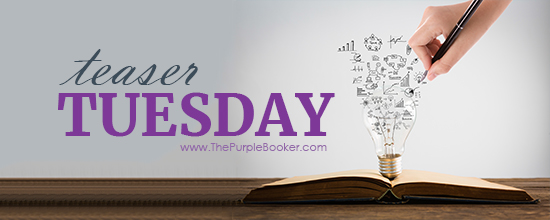 Welcome to Teaser Tuesday, the weekly Meme that wants you to add books to your TBR! You can also just share what you are currently reading. We make it very easy to play along, it is as easy as 1, 2, 3!
1: Grab your current read
2: Open to a random pag
3: Share two (2) "teaser" sentences from somewhere on that page
• BE CAREFUL NOT TO INCLUDE SPOILERS! (make sure that what you share doesn't give too much away! You don't want to ruin the book for others!)
• Share the title & author, too, so that other TT participants can add the book to their TBR Lists if they like your teasers! Everyone loves Teaser Tuesday.
Ambrosia's little note:
How can it be June already? This year just seems to be flying by way to fast. Seems like yesterday it was January and I was in Daytona. Here we are though summer is almost here. Kids are out of school and I am in full working on a cross country move mode. EEK. That said I am working hard on reading more to calm down and I am almost caught up on reviews. Yay!
Go on then Ambrosia we want the teaser!
"Slipping past the revelers, Darcy inched toward the relative privacy of the boats lower deck. She was the hostage. That morning Darcy had stopped in to clean out her office with a minimum of fuss. She'd rehearsed her goodbye to the staff, the usual pithy speech she trotted out whenever quitting the latest job. Just a few quick words about how much she'd enjoyed the year in Charleston as the assistant manager for Big Bud's Harbor Tours."
― The Road She Left Behind, Christine Nolfi
I couldn't help but laugh a little bit at the title of that buisness. Big Bud's harbor Tours, LOL.