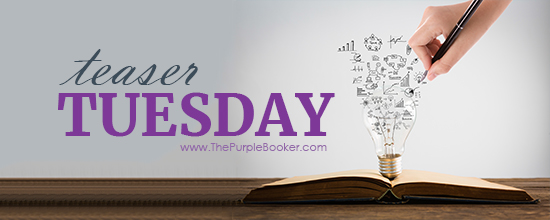 Welcome to Teaser Tuesday, the weekly Meme that wants you to add books to your TBR! You can also just share what you are currently reading. We make it very easy to play along, it is as easy as 1, 2, 3!
1: Grab your current read
2: Open to a random pag
3: Share two (2) "teaser" sentences from somewhere on that page
• BE CAREFUL NOT TO INCLUDE SPOILERS! (make sure that what you share doesn't give too much away! You don't want to ruin the book for others!)
• Share the title & author, too, so that other TT participants can add the book to their TBR Lists if they like your teasers! Everyone loves Teaser Tuesday.
Ambrosia's little note:
Welcome to another Teaser Tuesday here at The Purple Booker. I just want to take a moment today to thank all of you who come and share your Teaser with everyone. While I don't always get the time to comment on every shared Teaser, but I assure you I visit everyone's teaser. I can't tell you how many books I have added to my TBR thanks to you guys. No regret's about that either! I just wish there was more then one of me sometimes, so I could get to everything and all the books too.
Go on then Ambrosia we want the teaser!
"Darkness, it turned out, would be my ultimate teacher. The Buddhists consider suffering to be the ultimate gateway to awakening.And mine had brought me to a crossroads of sorts. One road was paved and would take me along a more conventional route. It was the more popular road because it was simpler to navigate, well lit, and easier to tread (and faster, even though there was more traffic). Here people had faces and everything was orderly and sterile. There was a solid framework, and things were done in certain ways and did not stray from those ways." ― Natasha Scripture, Man Fast: A Memoir