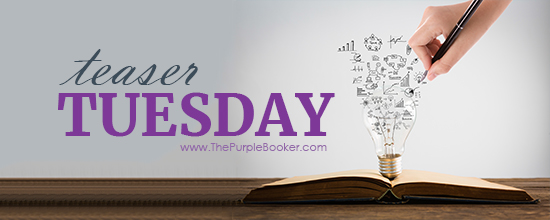 Welcome to Teaser Tuesday, the weekly Meme that wants you to add books to your TBR! You can also just share what you are currently reading. We make it very easy to play along, it is as easy as 1, 2, 3!
1: Grab your current read
2: Open to a random pag
3: Share two (2) "teaser" sentences from somewhere on that page
• BE CAREFUL NOT TO INCLUDE SPOILERS! (make sure that what you share doesn't give too much away! You don't want to ruin the book for others!)
• Share the title & author, too, so that other TT participants can add the book to their TBR Lists if they like your teasers! Everyone loves Teaser Tuesday.
Ambrosia's little note:
Is it just me or does anyone else feel like June is flying by? The 18th already wow! Teaser Tuesday always makes me slow down enough to see how fast things are flying by and I am glad for that check in every week. This week I am already feeling exhausted, but that is because I have been pretty much going non stop since last week. Also got some of the summer crud that has been going around. Anyone else? I think the summer crud is the worst. That being said, the show must go on! So here we go with this weeks Teaser.
Go on then Ambrosia we want the teaser!
"The deal it seemed to be making with me was twofold: If I wanted to reclaim myself, I had to let go of the things that made me feel secure. Likewise, to go in and expand back outward, I had to let go of the narratives in my life that were disempowering. I had to let go of what I didn't need and what I was not; it was a real disrobing." ― Natasha Scripture, Man Fast: A Memoir