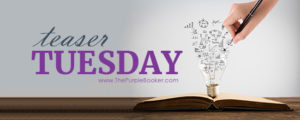 Welcome to Teaser Tuesday, the weekly Meme that wants you to add books to your TBR! You can also just share what you are currently reading. We make it very easy to play along, it is as easy as 1, 2, 3!
1: Grab your current read
2: Open to a random page
3: Share two (2) "teaser" sentences from somewhere on that page
• BE CAREFUL NOT TO INCLUDE SPOILERS! (make sure that what you share doesn't give too much away! You don't want to ruin the book for others!)
• Share the title & author, too, so that other TT participants can add the book to their TBR Lists if they like your teasers! Everyone loves Teaser Tuesday.
Happy Teaser Tuesday everyone! As always I hope I find you well this Tuesday and enjoying your reads! I didn't get as much reading done as I wanted to because I was making lots of game plans for my little Phoenix kitten. He had a rare reaction to the medication they use to put them out for neutering. It attacked the central nervous system, so now Phoenix has some back end weakness.
Eating, drinking all that good stuff normally. Just a bit more klutzy. Luckily since he is young the vet thinks in a few weeks or months it will resolve itself. If not that is okay too. I love him just the same. Healthy baby is what really matters.
This weeks Teaser..
Though the King promised to steal away again with Madge soon, she did not hear from him in the days that followed. She reported all that had happened to the Queen and the Queen seemed quite pleased.  The gossips had it that the King had lost his love for Madge and had turned his attentions back to Lady Jane Seymour.

― At the Mercy of the Queen by Anne Clinard Barnhill