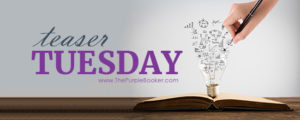 Welcome to Teaser Tuesday, the weekly Meme that wants you to add books to your TBR! You can also just share what you are currently reading. We make it very easy to play along, it is as easy as 1, 2, 3!
1: Grab your current read
2: Open to a random page
3: Share two (2) "teaser" sentences from somewhere on that page
• BE CAREFUL NOT TO INCLUDE SPOILERS! (make sure that what you share doesn't give too much away! You don't want to ruin the book for others!)
• Share the title & author, too, so that other TT participants can add the book to their TBR Lists if they like your teasers! Everyone loves Teaser Tuesday.
Happy Teaser Tuesday everyone! As always I hope I find you well this Tuesday and enjoying your reads! Last weeks missing TT post brought to you by the holiday that made me forget it was Tuesday. This weeks brought to you by Word press not posting as scheduled. Oi sorry about that but it is here this week. And I shall be having a long talk with my WordPress on behalf of those who do TT with me.
This weeks Teaser..
 They fell silent and Madge napped, in spite of her desire to keep watch over the Queen. When she awoke, the Queen was leaning over the edge of her great bed, looking at Madge.

"Your a pretty girl Margaret 'Tis how the king speaks of you – pretty Madge he calls you." said the Queen.

"I am surprised his Majesty would think of me at all" said Madge.

― At the Mercy of the Queen by Anne Clinard Barnhill