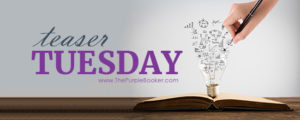 Welcome to Teaser Tuesday, the weekly Meme that wants you to add books to your TBR! You can also just share what you are currently reading. We make it very easy to play along, it is as easy as 1, 2, 3!
1: Grab your current read
2: Open to a random page
3: Share two (2) "teaser" sentences from somewhere on that page
• BE CAREFUL NOT TO INCLUDE SPOILERS! (make sure that what you share doesn't give too much away! You don't want to ruin the book for others!)
• Share the title & author, too, so that other TT participants can add the book to their TBR Lists if they like your teasers! Everyone loves Teaser Tuesday.
Happy Teaser Tuesday everyone! As always I hope I find you well this Tuesday and enjoying your reads!  Sorry about missing last week.This time it was down to breaking my laptop charge chord while doing some overnights for a client so not at home. Hopefully nothing else comes up and I don't miss anymore weeks. I always feel bad when I miss something. Last week was also my 39th Birthday. It was a good day. I worked and such but I did take myself out to dinner which was lovely. A delicious meal.
This weeks Teaser..
"The Queen yawned and then continued her story, "Mme. d'Heilly has a silken cord with nine silken tails at one end. When she meets with the king in one of his houses arranged for such a purpose, she takes the reigns of power from him. Now, it is she who must be obeyed on pain of, well, lashing with the silken whip. She commands the king and he obeys her every wish."

― At the Mercy of the Queen by Anne Clinard Barnhill