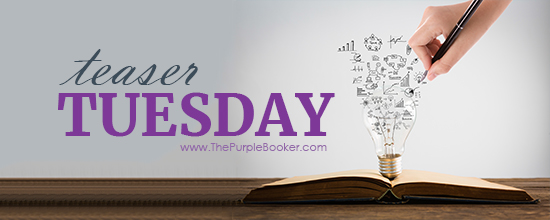 Welcome to Teaser Tuesday, the weekly Meme that wants you to add books to your TBR, or just share what you are currently reading. It is very easy to play along:
• Grab your current read
• Open to a random page
• Share two (2) "teaser" sentences from somewhere on that page
• BE CAREFUL NOT TO INCLUDE SPOILERS! (make sure that what you share doesn't give too much away! You don't want to ruin the book for others!)
• Share the title & author, too, so that other TT participants can add the book to their TBR Lists if they like your teasers! Everyone loves Teaser Tuesday.
Happy Tuesday book friends. I hope you had a good week last week and that so far this week you are having an alright time. Last week ended up being a bit of a train wreck for me, but that's okay, it happens. New week new chance to work on some more goals. Like getting back to my reviews here. I have so many to catch up on! Ack! Anyways I am still playing juggle with several of my reads, lol. To relax a little bit this week I have visited an old friend while waiting on the new novel to come out.
"I don't want to live in a world where the strong rule and the weak cower. I'd rather make a place where things are a little quieter. Where trolls stay the hell under their bridges and where elves don't come swooping out to snatch children from their cradles. Where vampires respect the limits, and where the faeries mind their p's and q's. My name is Harry Blackstone Copperfield Dresden. Conjure by it at your own risk. When things get strange, when what goes bump in the night flicks on the lights, when no one else can help you, give me a call. I'm in the book."
― Jim Butcher, Storm Front