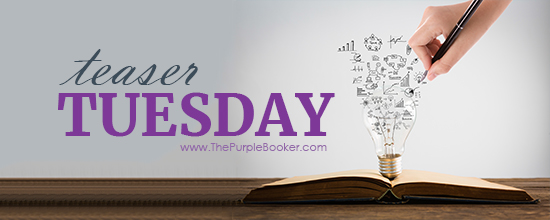 Welcome to Teaser Tuesday, the weekly Meme that wants you to add books to your TBR, or just share what you are currently reading. It is very easy to play along:
• Grab your current read
• Open to a random page
• Share two (2) "teaser" sentences from somewhere on that page
• BE CAREFUL NOT TO INCLUDE SPOILERS! (make sure that what you share doesn't give too much away! You don't want to ruin the book for others!)
• Share the title & author, too, so that other TT participants can add the book to their TBR Lists if they like your teasers! Everyone loves Teaser Tuesday.
Welcome back my fellow book friends. It is already April. Wow. Is it just me or is that a little bit insane and the year is just flying on by? Last month was a rough one, with the passing of my friends Gran who was like another Gran to me. The loss really hit me harder then I thought it would. I am finding my way out of the woods with that one though. Still crocheting like a mad person though. Phoenix comic con is now less then 2 months away and I feel like I will never have enough stock for my vendor table. Ack! I am looking forward to the event though. I wish I could get into audio books more, or I wish I would stop forgetting to set my kindle to read to me while I try not to laugh at the robotic voice. Alas, I will just have to slightly bore you with another teaser from one of my 4 current reads. *insert facepalm emojoi here* I won't bore you with the story how it got to me so many since I usually try to read just one book at a time, lol.
"Frankly, I think it's a damned slur against the tarts to consign them to the social rubbish heap just for earning a living while praising the politicos as selfless public servants. At least bints aren't hypocritical: you'll never hear one of them blathering on sanctimoniously that they do what they do for the benefit of the British public."
― Carol K. Carr, India Black