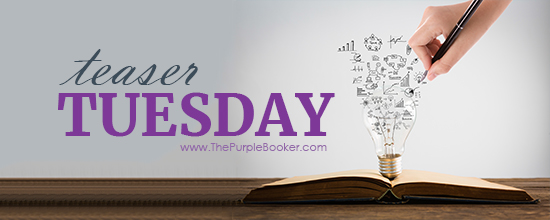 Welcome to Teaser Tuesday, the weekly Meme that wants you to add books to your TBR, or just share what you are currently reading. It is very easy to play along:
• Grab your current read
• Open to a random page
• Share two (2) "teaser" sentences from somewhere on that page
• BE CAREFUL NOT TO INCLUDE SPOILERS! (make sure that what you share doesn't give too much away! You don't want to ruin the book for others!)
• Share the title & author, too, so that other TT participants can add the book to their TBR Lists if they like your teasers! Everyone loves Teaser Tuesday.
Tuesday is here again. I hope everyone is having a good week so far and had a good week last week. I know it doesn't always seem like it, because life is giving me lots of lemons to make lemonade with right now and I don't have the time I wish I did for blogging like I used too. BUT, I really do love this blog and community. I look forward to making this post every week, I truly do. I read every reply and check out everyone's teasers, even if I don't manage to reply to everyone because of time. I just wanted to let you guys know that I do look and I do enjoy being able to host this weekly post.
I won't bore you with to many details of the lemons right now, because it's time to get a great teaser shared! This week I have opted to share a teaser from a book that I am not currently reading, but have in the past and it is from one of my favorite series. I chose to do this because my heart breaks for what happened yesterday when Notre Dame burned. The Pink Carnation series goes back and forth in its stories from England to France so I thought it would be a small fitting tribute. I love the series and while I am very behind on reading books from it, I plan to do just that once life settles down a bit more and gives me some more reading time.
"His mother made a noise that in anyone of lower rank than a countess would have been given the unmannerly name of snort. As a cowed member of the ton had once commented, 'Nobody harrumphs quite like the Marchioness of Uppington."
― Lauren Willig, The Secret History of the Pink Carnation