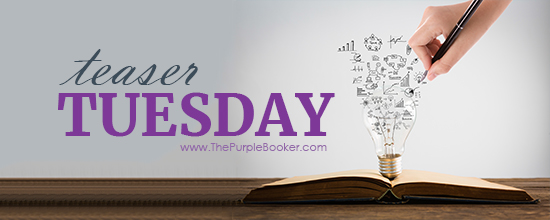 Welcome to Teaser Tuesday, the weekly Meme that wants you to add books to your TBR, or just share what you are currently reading. It is very easy to play along:
• Grab your current read
• Open to a random page
• Share two (2) "teaser" sentences from somewhere on that page
• BE CAREFUL NOT TO INCLUDE SPOILERS! (make sure that what you share doesn't give too much away! You don't want to ruin the book for others!)
• Share the title & author, too, so that other TT participants can add the book to their TBR Lists if they like your teasers! Everyone loves Teaser Tuesday.
Hello Tuesday my old friend. I hope everyone is having a good week thus far and that your weekend wasn't to tough. Still working on turning lemons into lemonade for my part, but things are a little better then they have been. A bonus is this week Avengers Endgame comes out, something my little fan girl heart has been eagerly waiting for, even though I know emotionally it is going to make me a train wreck. LOL.
Anyways on to the teaser.
"Becoming a POW and getting to the United States was his last hope to tell the world about the Death camps. He'd used his position as an SS inspection officer to travel and mail letters-while in each new city-to European Clergy and Danish and Swiss political resistance groups, notifying them about the hidden truths of the "work camps". " ― When We Were Brave by Karla M. Jay