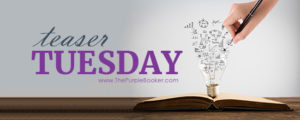 Welcome to Teaser Tuesday, the weekly Meme that wants you to add books to your TBR! You can also just share what you are currently reading. We make it very easy to play along, it is as easy as 1, 2, 3!
1: Grab your current read
2: Open to a random page
3: Share two (2) "teaser" sentences from somewhere on that page
• BE CAREFUL NOT TO INCLUDE SPOILERS! (make sure that what you share doesn't give too much away! You don't want to ruin the book for others!)
• Share the title & author, too, so that other TT participants can add the book to their TBR Lists if they like your teasers! Everyone loves Teaser Tuesday.
Happy Teaser Tuesday everyone! As always I hope I find you well this Tuesday and enjoying your reads!  Allergy season has hit me hard, right in the face. Thanks Tucson LOL. I am grumpy cause of my raw nose thanks to all the blowing due to allergies. I am just fussing a little bit but I do own that I am grumpy.
This weeks Teaser..
"I was a bit vague on the details when relaying the story to him." "I might just come to like you, Emily. But you should never withhold details—no matter how small—from him. A marriage requires absolute honesty." "I agree, of course. It's just that—" "There can be no just thats," she said. "Full disclosure on every subject or you'll mire yourselves in a web of deceit. What seems insignificant."

― Dangerous to Know by Tasha Alexander