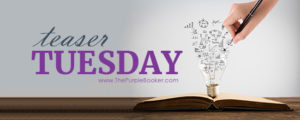 Welcome to Teaser Tuesday, the weekly Meme that wants you to add books to your TBR! You can also just share what you are currently reading. We make it very easy to play along, it is as easy as 1, 2, 3!
1: Grab your current read
2: Open to a random page
3: Share two (2) "teaser" sentences from somewhere on that page
• BE CAREFUL NOT TO INCLUDE SPOILERS! (make sure that what you share doesn't give too much away! You don't want to ruin the book for others!)
• Share the title & author, too, so that other TT participants can add the book to their TBR Lists if they like your teasers! Everyone loves Teaser Tuesday.
Happy Teaser Tuesday everyone! As always I hope I find you well this Tuesday and enjoying your reads!  Sorry about missing last week. It was a hectic start to the week and I honestly just forgot. Fibro fog reared its head for the first time in a while which didn't help. This week is going better so far though and I am way to excited that it is smoothie season again. I bought way to much frozen fruit on Sunday and yet I have no regrets, lol.
This weeks Teaser..
"Politics is a delicate business. I understand that well. But if a party is not willing to stand up for what is right, does it deserve to win back control of the government?"

― Dangerous to Know by Tasha Alexander