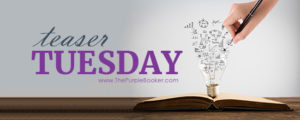 Welcome to Teaser Tuesday, the weekly Meme that wants you to add books to your TBR! You can also just share what you are currently reading. We make it very easy to play along, it is as easy as 1, 2, 3!
1: Grab your current read
2: Open to a random page
3: Share two (2) "teaser" sentences from somewhere on that page
• BE CAREFUL NOT TO INCLUDE SPOILERS! (make sure that what you share doesn't give too much away! You don't want to ruin the book for others!)
• Share the title & author, too, so that other TT participants can add the book to their TBR Lists if they like your teasers! Everyone loves Teaser Tuesday.
Happy Teaser Tuesday everyone! As always I hope I find you well this Tuesday and enjoying your reads! Oh man, it was a really really rough week. I would like a reset and an easy button please. I may tell more about the adventures in ugh another week. In good news I have a concert today, Daughtry in Tempe. Yay.
This weeks Teaser..
"The wolf who wins is the wolf you feed. The evil wolf feeds on anger, guilt, sorrow, lies, and regret. The good wolf needs a diet of love and honesty, spiced up with big spoonfuls of compassion and faith. So if you want the good wolf to win, you're going to have to starve the other one."

― Book of Life by Deborah Harkness