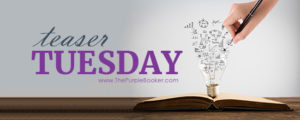 Welcome to Teaser Tuesday, the weekly Meme that wants you to add books to your TBR! You can also just share what you are currently reading. We make it very easy to play along, it is as easy as 1, 2, 3!
1: Grab your current read
2: Open to a random page
3: Share two (2) "teaser" sentences from somewhere on that page
• BE CAREFUL NOT TO INCLUDE SPOILERS! (make sure that what you share doesn't give too much away! You don't want to ruin the book for others!)
• Share the title & author, too, so that other TT participants can add the book to their TBR Lists if they like your teasers! Everyone loves Teaser Tuesday.
Happy Teaser Tuesday everyone! As always I hope I find you well this Tuesday and enjoying your reads! Happy Saint Patricks day everyone. Sorry my little note is going to be extra short this week. Its been a rough few days, but I wanted to make sure to get the Teaser up.
This weeks Teaser..
"Sex and dominance. It's what modern humans think vampire relationships are all about," I said. "Their stories are full of crazed alpha-male vampires throwing women over their shoulders before dragging them off for dinner and a date." "Dinner and a date?" Matthew was aghast. "Do you mean . . . ?" "Uh-huh. You should see what Sarah's friends in the Madison coven read. Vampire meets girl, vampire bites girl, girl is shocked to find out there really are vampires. The sex, blood, and overprotective behavior all come quickly thereafter. Some of it is pretty explicit." I paused. "There's no time for bundling, that's for sure. I don't remember much poetry or dancing either." Matthew swore. "No wonder your aunt wanted to know if I was hungry." "You really should read this stuff, if only to see what humans think. It's a public-relations nightmare. Far worse than what witches have to overcome."

― Shadow of Night A Discovery of Witches