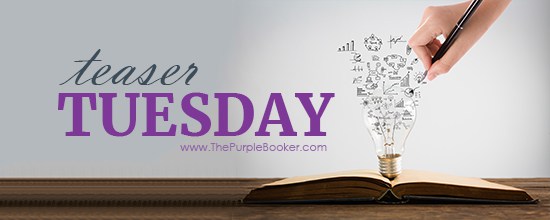 Welcome to Teaser Tuesday, the weekly Meme that wants you to add books to your TBR! You can also just share what you are currently reading. We make it very easy to play along, it is as easy as 1, 2, 3!
1: Grab your current read 2: Open to a random page
3: Share two (2) "teaser" sentences from somewhere on that page
• BE CAREFUL NOT TO INCLUDE SPOILERS! (make sure that what you share doesn't give too much away! You don't want to ruin the book for others!)
• Share the title & author, too, so that other TT participants can add the book to their TBR Lists if they like your teasers! Everyone loves Teaser Tuesday.
Happy Teaser Tuesday everyone! As always I hope I find you well this Tuesday and enjoying your reads. So far so good over here with March. This coming weekend into the start of next week I will be with my favorite doggy client miss Abuela. I have been pretty busy so not much reading was done this week but I got a lot of other stuff done. So yay for that.
This weeks Teaser..
"In the pale light of the Moon I play the game of you. Whoever I am. Whoever you are. All sense of where I am, of who I am and where I'm going, has been swallowed by the dark. And I walk through the stars and sky… a trinity of dreams beneath the moon."
― Neil Gaiman, The Sandman Vol. 5: A Game of You