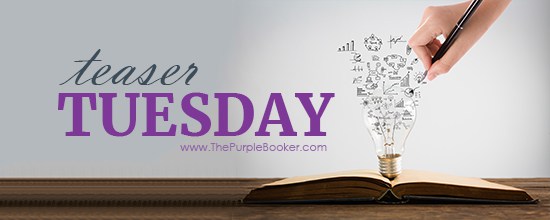 Welcome to Teaser Tuesday, the weekly Meme that wants you to add books to your TBR! You can also just share what you are currently reading. We make it very easy to play along, it is as easy as 1, 2, 3!
1: Grab your current read 2: Open to a random page
3: Share two (2) "teaser" sentences from somewhere on that page
• BE CAREFUL NOT TO INCLUDE SPOILERS! (make sure that what you share doesn't give too much away! You don't want to ruin the book for others!)
• Share the title & author, too, so that other TT participants can add the book to their TBR Lists if they like your teasers! Everyone loves Teaser Tuesday.
Happy Teaser Tuesday everyone! As always I hope I find you well this Tuesday and enjoying your reads. Hello March! One of my favorite months out of the year if I am honest. I am Irish so st. Pat's day is one of my days and it always makes me think of my Great Grandma as well. I miss her dearly. Sadly she did pass away on St. Patricks day 2006. She always loved the day though, so I try to always stay with the fond memories of her. I will be making her key lime pie like I do every year.
This weeks Teaser..
"You know what the really scary thing about bad dreams? It's that something's going on in your head, and you can't control it. I mean, It's like there's these bad worlds inside you. But it's just you… it's like you're betraying yourself."
― Neil Gaiman, The Sandman Vol. 5: A Game of You