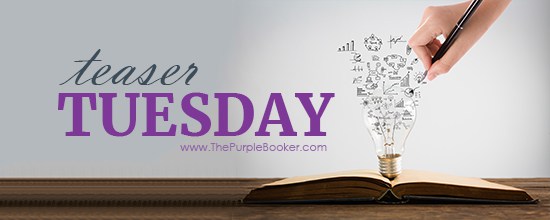 Welcome to Teaser Tuesday, the weekly Meme that wants you to add books to your TBR! You can also just share what you are currently reading. We make it very easy to play along, it is as easy as 1, 2, 3!
1: Grab your current read 2: Open to a random page
3: Share two (2) "teaser" sentences from somewhere on that page
• BE CAREFUL NOT TO INCLUDE SPOILERS! (make sure that what you share doesn't give too much away! You don't want to ruin the book for others!)
• Share the title & author, too, so that other TT participants can add the book to their TBR Lists if they like your teasers! Everyone loves Teaser Tuesday.
Happy Teaser Tuesday everyone! As always I hope I find you well this Tuesday and enjoying your reads. I had a nice weekend with my puppy client Abuela. I will be with her for almost two weeks starting next week. As always I miss my own fur kids, but I still see them everyday so they mostly forgive me. LOL. The youngest Maverick has been super clingy since I got home today, LOL. Used to those mommy snuggles at night.
This weeks Teaser..
"Many boys will bring you flowers. But someday you'll meet a boy who will learn your favorite flower, your favorite song, your favorite sweet. And even if he is too poor to give you any of them, it won't matter because he will have taken the time to know you as no one else does. Only that boy earns your heart."
― Leigh Bardugo, Six of Crows