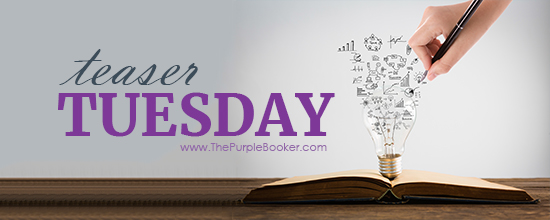 Welcome to Teaser Tuesday, the weekly Meme that wants you to add books to your TBR! You can also just share what you are currently reading. We make it very easy to play along, it is as easy as 1, 2, 3!
1: Grab your current read
2: Open to a random page
3: Share two (2) "teaser" sentences from somewhere on that page
• BE CAREFUL NOT TO INCLUDE SPOILERS! (make sure that what you share doesn't give too much away! You don't want to ruin the book for others!)
• Share the title & author, too, so that other TT participants can add the book to their TBR Lists if they like your teasers! Everyone loves Teaser Tuesday.
Happy Teaser Tuesday everyone! I hope last week was a good one, and those who had long weekends enjoyed them. My week last week was pretty busy, couple of Doctors appointments and a bunch of other things that kept me jumping. And in the words of the internet meme…..sort of….. my body was not ready. LOL. The bright side is I taught myself a new crafty skill, loom knitting and have already made 7 new hats for my #RaspberryCrochet project for handing out warm items to the homeless. It is starting to be warmer time here in Tucson, but I can mail a box to my Mom in MN since it will be cold there for a while yet. Alternatively, I can just call them the start to next winters stash. And now…onto the teaser!
She always paid attention to fingers rather than faces because they told so much more. People remembered to guard their faces. They forgot their hands. Her own were small, though strong and supple from all the hours of piano playing, but what use was that now? For the first time she understood what real danger does to the human mind, as flat white fear froze the coils of her brain.~The Jewel of St. Petersburg