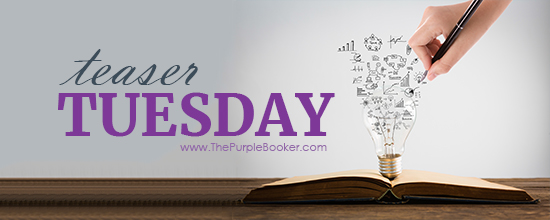 Welcome to Teaser Tuesday, the weekly Meme that wants you to add books to your TBR! You can also just share what you are currently reading. We make it very easy to play along, it is as easy as 1, 2, 3!
1: Grab your current read
2: Open to a random page
3: Share two (2) "teaser" sentences from somewhere on that page
• BE CAREFUL NOT TO INCLUDE SPOILERS! (make sure that what you share doesn't give too much away! You don't want to ruin the book for others!)
• Share the title & author, too, so that other TT participants can add the book to their TBR Lists if they like your teasers! Everyone loves Teaser Tuesday.
Happy Teaser Tuesday everyone! Almost Valentines day, then we can start decorating for Saint Patrick's day right? LOL. I'm not big on Valentines day (so much pink everywhere), but I understand why others enjoy it. Last week was pretty busy, and my fibro reared its head, which is never fun), but it was overall a good week. This week is starting out a little rough, but the bonus side is I should have a bit more time to read, so huzzah for that silver lining. So now without further ado, this weeks teaser.
Richard still tried persuasion. After all, the cause was always more to him than the means. He winked at Berengaria and set his elbows companionably on the wall along side his sulky ally. "Do them good Leopold!" he laughed. "Just look at them lolling there in the shade stuffing olives. They're getting to fat for their armour."~The Passionate Brood by Margaret Campbell