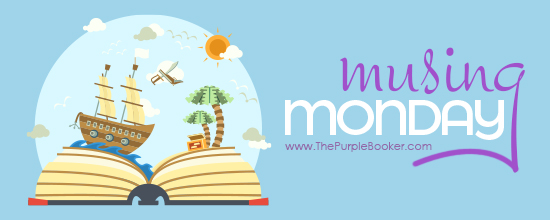 Musing Mondays is a weekly meme that asks you to choose one of the following prompts to answer:
I'm currently reading…
Up next I think I'll read…
I bought the following book(s) in the past week…
I'm super excited to tell you about (book/author/bookish-news)…
I'm really upset by (book/author/bookish-news)…
I can't wait to get a copy of…
I wish I could read ___, but…
I blogged about ____ this past week…
THIS WEEKS RANDOM QUESTION: Do you like new book smell? Old book smell? All book smell?
So this weeks question is rather random but it is something that I ponder frequently because I love old book smell. New books are nice too but there is just something more familiar and calming about the smell of old books to me. The lack of book smell was one reason that I did not jump onto the Kindle bandwagon when they first came out. Price was a factor too (is it me or were they way more expensive when they first came out? Like massively.) but it really did come down to the lack of book smell for me.
I still love walking into a used book store the smell is one of a kind. I will always pause and just enjoy that smell for a moment before I go on to continue my shopping. I often do the same thing when I walk into a library. I know they have tried to replicate that smell in candles and the like but for me it is never the same. Old book smell is one of a kind.