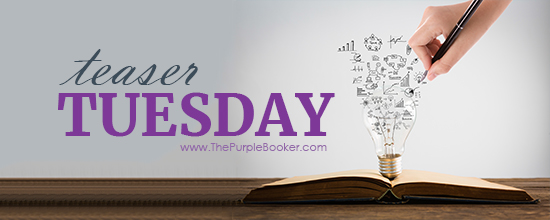 Welcome to Teaser Tuesday, the weekly Meme that wants you to add books to your TBR, or just share what you are currently reading. It is very easy to play along:
• Grab your current read</http://thepurplebooker.com/wp-admin/themes.phpem>
• Open to a random page
• Share two (2) "teaser" sentences from somewhere on that page
• BE CAREFUL NOT TO INCLUDE SPOILERS! (make sure that what you share doesn't give too much away! You don't want to ruin the book for others!)
• Share the title & author, too, so that other TT participants can add the book to their TBR Lists if they like your teasers! Everyone loves Teaser Tuesday.
Who is a space case and never went back and updated her teaser last week? LOL This girl. Little mini vacation was lovely though, once we got there. On the way both front tires of my car blew, on a 75mph zone two lane highway at 9pm on a holiday weekend. Did you know that some cars have locking lug nuts? I didn't. I have roadside assistance but thanks to the locking lug nuts and lack of key they couldn't help other then calling a tow truck. Cutting a long story short ended up renting a car to make the 2 hour drive to see David Cook & Idina Menzel. At least the hotel as always was a dream, highly reccomend you treat yourself to The Westin sometimes the beds alone….heavenly.
I digress….it is Teaser Tuesday not long tale Tuesday, lol.
Here is the teaser from my current read.

A rose among thorns.
Alma repeated the words with a sigh of regret, adjusted the gun against her leg, and let the skirt drop into place. Her chapped knuckles caught on the coarse fabric. ~ Frail Blood by Jo Robertson