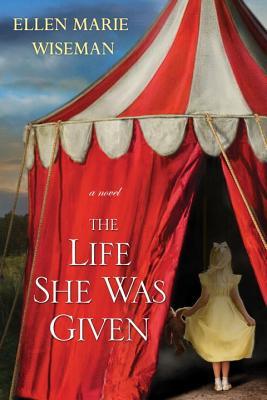 From acclaimed author Ellen Marie Wiseman comes a vivid, daring novel about the devastating power of family secrets–beginning in the poignant, lurid world of a Depression-era traveling circus and coming full circle in the transformative 1950s.
On a summer evening in 1931, Lilly Blackwood glimpses circus lights from the grimy window of her attic bedroom. Lilly isn't allowed to explore the meadows around Blackwood Manor. She's never even ventured beyond her narrow room. Momma insists it's for Lilly's own protection, that people would be afraid if they saw her. But on this unforgettable night, Lilly is taken outside for the first time–and sold to the circus sideshow.
More than two decades later, nineteen-year-old Julia Blackwood has inherited her parents' estate and horse farm. For Julia, home was an unhappy place full of strict rules and forbidden rooms, and she hopes that returning might erase those painful memories. Instead, she becomes immersed in a mystery involving a hidden attic room and photos of circus scenes featuring a striking young girl.
At first, The Barlow Brothers' Circus is just another prison for Lilly. But in this rag-tag, sometimes brutal world, Lilly discovers strength, friendship, and a rare affinity for animals. Soon, thanks to elephants Pepper and JoJo and their handler, Cole, Lilly is no longer a sideshow spectacle but the circus's biggest attraction. . .until tragedy and cruelty collide. It will fall to Julia to learn the truth about Lilly's fate and her family's shocking betrayal, and find a way to make Blackwood Manor into a place of healing at last.
Moving between Julia and Lilly's stories, Ellen Marie Wiseman portrays two extraordinary, very different women in a novel that, while tender and heartbreaking, offers moments of joy and indomitable hope.

First, I want to say thank you to Net Galley for letting me have an early copy of this book so I could review it.
The life she was given is a beautifully written story that spans generations, lives and shows what happens when families keep secrets. There are events in the book that are simply horrifying, but at the same time you can't look away because the book holds your attention. This is a story that while I know it is fiction (some loosely based on real events) it is one that could be nonfiction, someone sharing the story of their family.
Lilly and Julia are both amazing characters that are well fleshed out and I could see them as I traveled back and forth between their stories. The change ups were nice and happened just about every chapter giving the book a smooth and easy rhythm that I appreciated. Some books that split between more than one POV can be very clunky and turn me off because I can't settle into the story.
Life in the circus was not a good one back in the era this story is told in. Animal rights were pretty much nothing and rights for people not much better. Yet within the horror and the trauma, there is still love and hope to be found. That was the message that came out the strongest to me and it is a message I was happy to see in our world today that seems to be getting darker.
The only thing that kept me from making this one five stars is that for all its wonder and how good it was the story felt a little too close to Water for Elephants for me. I know it is not the same book and that often books set in the same time period risk being similar but there were certain parts I felt could have been directly inserted into Water for Elephants and not be noticed. That being said, the book is still a beautiful work that does tell its own story. So I would highly recommend you give this book a chance if you can because it is a story that will stay with you.
My Gemstone Rating: