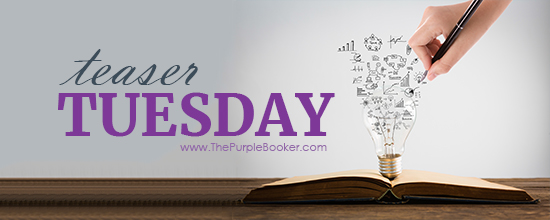 Welcome to Teaser Tuesday, the weekly Meme that wants you to add books to your TBR! You can also just share what you are currently reading. We make it very easy to play along, it is as easy as 1, 2, 3!
1: Grab your current read
2: Open to a random page
3: Share two (2) "teaser" sentences from somewhere on that page
• BE CAREFUL NOT TO INCLUDE SPOILERS! (make sure that what you share doesn't give too much away! You don't want to ruin the book for others!)
• Share the title & author, too, so that other TT participants can add the book to their TBR Lists if they like your teasers! Everyone loves Teaser Tuesday.
Happy Teaser Tuesday everyone! As always I hope I find you well this Tuesday and enjoying your reads.I hope you're all doing well today and enjoying your reads. Another busy week ahead for me, but it will be followed by a fun weekend. I will be heading up to Phoenix Oct 1-4th for a little R&R (totally going to catch up on my reading) and some concerts! Maroon 5 on Oct 1st and Alanis Morrisette and Garbage on the 3rd. Woot woot! Super excited. Outdoor venue, plus vaccine proof of negative covid test makes me feel safer too. I do love live music, as much as I love reading I think.
I look forward to seeing your teasers and hope you're having a great week!
"May I offer you a bit of wisdom to remember about wild things? Just because you cannot see teeth doesn't mean they won't bite."

― The Virgin Queen's Daughter by Ella March Chase