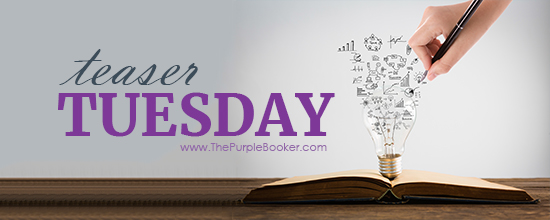 Welcome to Teaser Tuesday, the weekly Meme that wants you to add books to your TBR, or just share what you are currently reading. It is very easy to play along:
• Grab your current read</http://thepurplebooker.com/wp-admin/themes.phpem>
• Open to a random page
• Share two (2) "teaser" sentences from somewhere on that page
• BE CAREFUL NOT TO INCLUDE SPOILERS! (make sure that what you share doesn't give too much away! You don't want to ruin the book for others!)
• Share the title & author, too, so that other TT participants can add the book to their TBR Lists if they like your teasers! Everyone loves Teaser Tuesday.
I just finished this one, but as my current book is out in my office and I admit I am being lazy and don't want to go back out there, lol plus this is a good quote and book.
"Then again, she didn't like small talk either, so she was glad he wasn't commenting on the weather or the landscape. Life was too big and too short and too important to talk about the lack of rain or the latest gossip. She wanted to know how people felt about themselves and one another, whether they were happy or sad. She wanted to know what made them feel loved and what hurt them to the core. She wanted to know about their past, how they got where they were, and their relationships with their mothers and fathers and siblings. She wanted to know if she was the only mixed-up person in the world who felt completely and utterly alone."
― Ellen Marie Wiseman, The Life She Was Given