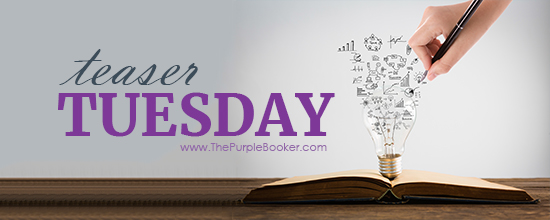 Welcome to Teaser Tuesday, the weekly Meme that wants you to add books to your TBR! You can also just share what you are currently reading. We make it very easy to play along, it is as easy as 1, 2, 3!
1: Grab your current read
2: Open to a random page
3: Share two (2) "teaser" sentences from somewhere on that page
• BE CAREFUL NOT TO INCLUDE SPOILERS! (make sure that what you share doesn't give too much away! You don't want to ruin the book for others!)
• Share the title & author, too, so that other TT participants can add the book to their TBR Lists if they like your teasers! Everyone loves Teaser Tuesday.
Happy Teaser Tuesday everyone! Hoping that you have a good week going! Nothing overly eventful happened here last week. Unless you  count one of my kitties snatching up one of my fish for a snack. Totally my fault, I thought it would be fine to leave the lid off the tank while I got clean water for water change. Boy was I wrong. RIP toot toot. It was pretty comical watching me chase the house tiger around trying to get the fish back. Onto the Teaser! 2 for the price of 1 this week.
"He appreciated her as a companion; admired her as a comrade; he wanted her as a lover. All innocuous enough each on its own. Put together . . . Christ. What a coil."

"Such kindness wasn't a gift but a goad, scraping against one's skin like a yoke of thorns. She would have preferred him stiff, defensive, even offensive."

― Lauren Willig, The Betrayal of the Blood Lily