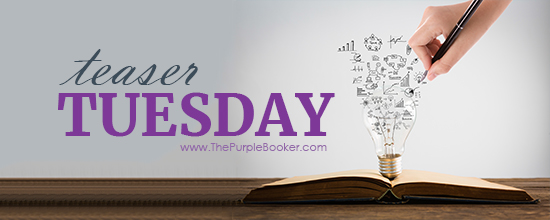 Welcome to Teaser Tuesday, the weekly Meme that wants you to add books to your TBR! You can also just share what you are currently reading. We make it very easy to play along, it is as easy as 1, 2, 3!
1: Grab your current read
2: Open to a random page
3: Share two (2) "teaser" sentences from somewhere on that page
• BE CAREFUL NOT TO INCLUDE SPOILERS! (make sure that what you share doesn't give too much away! You don't want to ruin the book for others!)
• Share the title & author, too, so that other TT participants can add the book to their TBR Lists if they like your teasers! Everyone loves Teaser Tuesday.
Happy Teaser Tuesday everyone! As always I hope I find you well this Tuesday and enjoying your reads! I hope that everyone who celebrates it had a good 4th of July. I had a good one, though it was stressful for the animals I was baby sitting. Other then that it is business usual for me. Working on making more time to blog and read and I do slowly seem to be making progress. Having fun learning to type with longer nails again, LOL.
Anyways, onto this week's Teaser: Went back to this one after setting it aside for a bit. Glad I did.
"The sun had sunk behind the mountains when Khalidah and Abi Guy emerged from the dormitory. The sky was bluish green, scattered with stars and a waning moon. A bonfire had been lit on the riverbank, surrounded by people dancing." ~ Sand Daughter by Sarah Bryant