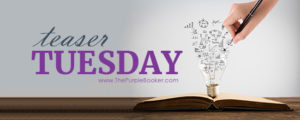 Welcome to Teaser Tuesday, the weekly Meme that wants you to add books to your TBR! You can also just share what you are currently reading. We make it very easy to play along, it is as easy as 1, 2, 3!
1: Grab your current read
2: Open to a random page
3: Share two (2) "teaser" sentences from somewhere on that page
• BE CAREFUL NOT TO INCLUDE SPOILERS! (make sure that what you share doesn't give too much away! You don't want to ruin the book for others!)
• Share the title & author, too, so that other TT participants can add the book to their TBR Lists if they like your teasers! Everyone loves Teaser Tuesday.
Happy Teaser Tuesday everyone! As always I hope I find you well this Tuesday and enjoying your reads. Finished my book and am getting started on a new one. Little Phoenix is taking meds like a champ but still feeling pretty under the weather. We go in for a check up later today. As ever always purring and wanting to cuddle though. Makes a great reading companion.
This weeks Teaser..
"You thought I was going to marry you?" Perched on the edge of his desk he laughed in disdain, stubbing out his cigarette. "I'm sorry if I ever gave you that impression, but frankly my dear it never occurred to me. And if you insist on having this child I'll deny its mine."

"But everyone knows.." she caught herself realizing that no one knew about them, in fact. That had been part of his game plan all along, part of the reason he kept their relationship a secret. In the event of something like this.