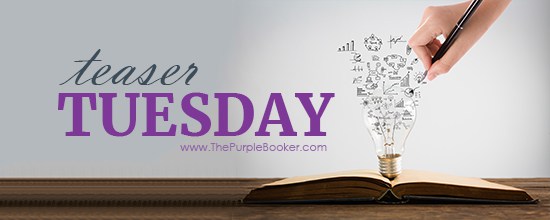 Welcome to Teaser Tuesday, the weekly Meme that wants you to add books to your TBR! You can also just share what you are currently reading. We make it very easy to play along, it is as easy as 1, 2, 3!
1: Grab your current read 2: Open to a random page
3: Share two (2) "teaser" sentences from somewhere on that page
• BE CAREFUL NOT TO INCLUDE SPOILERS! (make sure that what you share doesn't give too much away! You don't want to ruin the book for others!)
• Share the title & author, too, so that other TT participants can add the book to their TBR Lists if they like your teasers! Everyone loves Teaser Tuesday.
Happy Teaser Tuesday everyone! As always I hope I find you well this Tuesday and enjoying your reads. No stressful weekend for me this time, Yay. Sadly our new neighbor who is really nice is going through it. His wife ran off and took all the rent and bill money, and took over $500 in groceries. Poor guy doesn't have power right now with the stunt she pulled.  Been helping him out with a chord so he can at least charge his phone and such. Been giving him ice and such as well. Hope things get better for him soon.
This weeks Teaser..
"Maybe there were people who lived those lives. Maybe this girl was one of them. But what about the rest of us? What about the nobodies and the nothings, the invisible girls? We learn to hold our heads as if we wear crowns. We learn to wring magic from the ordinary. That was how you survived when you weren't chosen, when there was no royal blood in your veins. When the world owed you nothing, you demanded something of it anyway."
― Leigh Bardugo, Crooked Kingdom