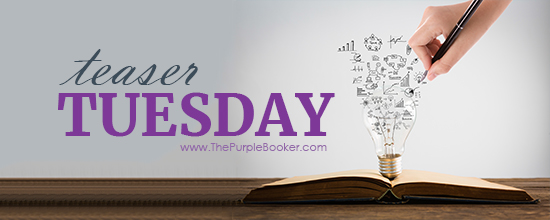 Welcome to Teaser Tuesday, the weekly Meme that wants you to add books to your TBR! You can also just share what you are currently reading. We make it very easy to play along, it is as easy as 1, 2, 3!
1: Grab your current read
2: Open to a random page
3: Share two (2) "teaser" sentences from somewhere on that page
• BE CAREFUL NOT TO INCLUDE SPOILERS! (make sure that what you share doesn't give too much away! You don't want to ruin the book for others!)
• Share the title & author, too, so that other TT participants can add the book to their TBR Lists if they like your teasers! Everyone loves Teaser Tuesday.
Happy Teaser Tuesday everyone! Hope everyone is doing alright, and staying safe out there! Another week another Teaser, which makes me happy. Unlike the dealership as they still have my car and have a serious lack of communication problem. I could go into  all the details about what is going on, but I really don\t want to bore you guys with a big rant. Maybe I will do a Sunday Salon or something if I can get my act together and stop being a hot mess, LOL.
Anyways, thanks for sticking out through my ramblings and let us now get to the Teaser.
Now onto this weeks teaser.
"The older man shook his head. "Not so near, we are from the mountains, but we do go regularly to the city to trade. And to answer your original question, yes we are indeed going to join Salah ad-Din. Ours may be a small village of no consequence, but news does reach us. When we heard about the incident we knew that we could no longer lie like dogs for the invaders to kick as they please. " ― Sand Daughter by Sarah Bryant