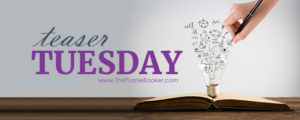 Welcome to Teaser Tuesday, the weekly Meme that wants you to add books to your TBR, or just share what you are currently reading. It is very easy to play along:
ETA: I am face palming myself for not using my new graphic, force of habit to just use the old one lol, sorry about that everyone. Feel free to use the new one if you want to.
• Grab your current read
• Open to a random page
• Share two (2) "teaser" sentences from somewhere on that page
• BE CAREFUL NOT TO INCLUDE SPOILERS! (make sure that what you share doesn't give too much away! You don't want to ruin the book for others!)
• Share the title & author, too, so that other TT participants can add the book to their TBR Lists if they like your teasers! Everyone loves Teaser Tuesday.
This may not be the longest teaser, but for some reason it made me laugh so I thought I would use it for this weeks post. Again I want to thank everyone who has made the move over and I look forward to seeing everyone's teasers!
"Five-hundred-fifty-six dollars and twenty-nine cents worth of Christmas decorations."
― Heather Horrocks, Bah, Humbug!