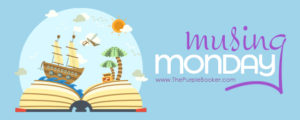 Musing Mondays is a weekly meme that asks you to choose one of the following prompts to answer:
I'm currently reading…
Up next I think I'll read…
I bought the following book(s) in the past week…
I'm super excited to tell you about (book/author/bookish-news)…
I'm really upset by (book/author/bookish-news)…
I can't wait to get a copy of…
I wish I could read ___, but…
I blogged about ____ this past week…
THIS WEEK'S RANDOM QUESTION: Does reading help you to release stress during stressful times? I it does do you have a favorite book that you return to for calm?
ETA:If you don't see your reply right away don't worry it just means I have to approve it the first time you post. After that you will be on the white list and your post should go up right away.
First, I would like to welcome everyone over to The Purple Booker (formerly Fire & Ice) and to say that I am honored (and a little nervous) I was allowed to take over Musing Monday and Teaser Tuesday. I hope I can do the same justice to the meme's as Jenn has throughout the years. If anyone has any suggestions or anything they would like me to do to make things easier, or better please let me know. With that said, I truly hope everyone will continue to enjoy the meme's we have all enjoyed. I know I have enjoyed Musing Monday and Teaser Tuesday as a participant or years. So with no more gilding of the Lily here we go.
I have used reading as a coping tool for stress for a long time. I always find it relaxing to settle in, pick up a book and delve into a new world, full of characters that I can love or hate and everything in the middle. I have found in recent years I have used books to help with stress even more than I had in the past. It really helps me to have a book with me in places like the Doctor's waiting room where my anxiety can often crop up.
I don't have a particular book most of the time. However, I have found that sometimes I do gravitate towards childhood favorites. This usually happens when there are huge levels of stress in life. We all have those once in a while right? Some of those favorites include, Tom Sawyer, Huckleberry Finn, Black Beauty and the Black Stallion books.
So how about you?
Please leave your comment: With either the link to your own Musing Mondays post, or share your answer in a comment here (if you don't have a blog). Thank you so much!