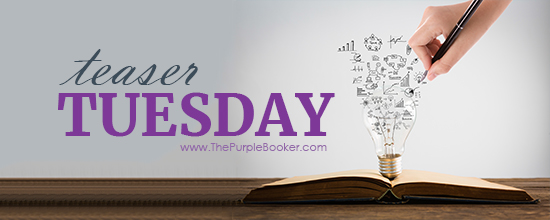 Welcome to Teaser Tuesday, the weekly Meme that wants you to add books to your TBR, or just share what you are currently reading. It is very easy to play along:
• Grab your current read
• Open to a random page
• Share two (2) "teaser" sentences from somewhere on that page
• BE CAREFUL NOT TO INCLUDE SPOILERS! (make sure that what you share doesn't give too much away! You don't want to ruin the book for others!)
• Share the title & author, too, so that other TT participants can add the book to their TBR Lists if they like your teasers! Everyone loves Teaser Tuesday.
I hope that everyone had a good Monday, whether you celebrated the holiday or not. I bet all of my fellow book friends are in the middle of the end of the year scramble too right? I have so many reviews to catch up on..and am once again being silly and looking a challenges to enter. One of these days I will find balance again and not look at wanting to join challenges as silly, lol but try try again right?
Currently reading a little C.S Lewis
"Love may forgive all infirmities and love still in spite of them: but Love cannot cease to will their removal."
― C.S. Lewis, The Problem of Pain