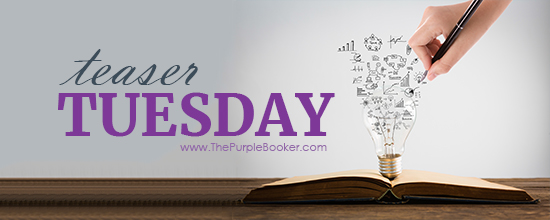 Welcome to Teaser Tuesday, the weekly Meme that wants you to add books to your TBR! You can also just share what you are currently reading. We make it very easy to play along, it is as easy as 1, 2, 3!
1: Grab your current read
2: Open to a random page
3: Share two (2) "teaser" sentences from somewhere on that page
• BE CAREFUL NOT TO INCLUDE SPOILERS! (make sure that what you share doesn't give too much away! You don't want to ruin the book for others!)
• Share the title & author, too, so that other TT participants can add the book to their TBR Lists if they like your teasers! Everyone loves Teaser Tuesday.
Happy Teaser Tuesday everyone! As always I hope I find you well this Tuesday and enjoying your reads! Holiday week and I hope you have a good one. Sorry this one is a little late today, we lost power last night and then this morning was flat out from early. Little Remy is settling in and learning people aren't to scary. While last week poor Ellie Mae gave us a huge scare. Thankfully I got her to the clinic fast and thanks to the team there she is doing great! She should be back with us to keep fostering in a few days.
Onto the teaser….
'We're talking sixty percent of them. Seriously. Maybe seventy percent. And I'm being optimistic. It's probably more like eighty or ninety percent. This isn't a library, it's an orphanage.'"

― 10 little Indians by Sherman Alexei